The microscopes used for plankton analysis
The plankton analysis is conducted using the Utermöhl method while following the Finnish and European guidelines.
The most important tools are 2 Leitz Diavert inverted microscopes.
Phytoplankton microscope
Objectives:
10x/0,22 Plan
20x / 0,32 Ph
25x/0,8 Plan Neofluar Oil
40x//0,75 Ph
63x/1,4 Plan Apo Oil
Condenser NA 0,6
Lamp 75 W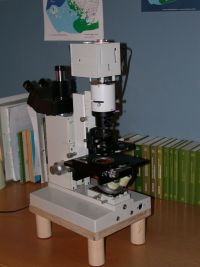 The zooplankton microscope
Objectives:
3x/0,10 Plan achromat
10x/0,25
32x//0,40 Ph
60x/0,70
Condenser NA 0,25
Lamp 50 W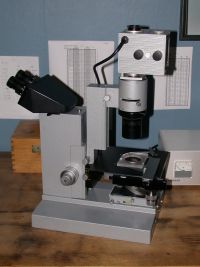 A digital camera is attached to the microscopes.
A drawing tubes is also available.
As an accessory, the Heine condenser included.
The work is performed primarily in the bright field,
If necessary, phase contrast is used.
Cuvettes – Zwerver / Hydro-Bios / Koeman en Bijkerk.
The plankton separator – Folsom, Hydro-Bios.
The most important identification literature available is found under the Literature link.