Got this telephone call from a consulting company. There had been complaints that something smelled like cow dung at a lake, so they took a sample from the ice on this lake. The farmers are not yet busy… They could see something in the sample.
I had some difficulties trying to identify the species on the telephone… In the last sample of the year there had been a lot of the diatom Aulacoseira islandica. Perhaps it was that. I asked if they could send me a some of that sample. They could.
This is what I saw: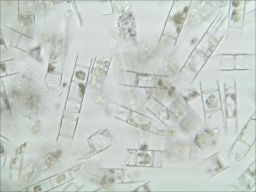 Aulacoseira indeed. And after a closer look I could be positive, that it is islandica.



Our beloved Astrid Cleve-Euler wrote in 1951 that this species is common and an important algae in the larger, meso- to eutrophic waters. And that it can form blooms in the winter!
Bijkerk et al 1996 write, that A. islandica has it's temperature optimum below 10 degrees and that it needs less light than it's sister A. granulata, for example. If the water is more eutroficated, then A. granulata will probably win.
The smell then. My nose did not detect any odour of dung. Some faint smell of… of… don't know.
Aulacoseira?
Literature:
Bijkerk, Ronald, Joosten, Ton & Koeman Reinoud 1996. Documentatie van centrale diatomeeën uit Nederlandse eutrofe binnenwateren. Koeman en Bijkerk bv, Haren. The Netherlands.
Cleve-Euler, Astrid 1951. Die Diatomeen von Schweden und Finnland. Kungl. Svenska vetenskapsakademiens handlingar. 4. ser. bd. 2, no. 1; 1-163.