This big (68×80 µm) Cosmarium botrytis lightened up my day just before lunch break.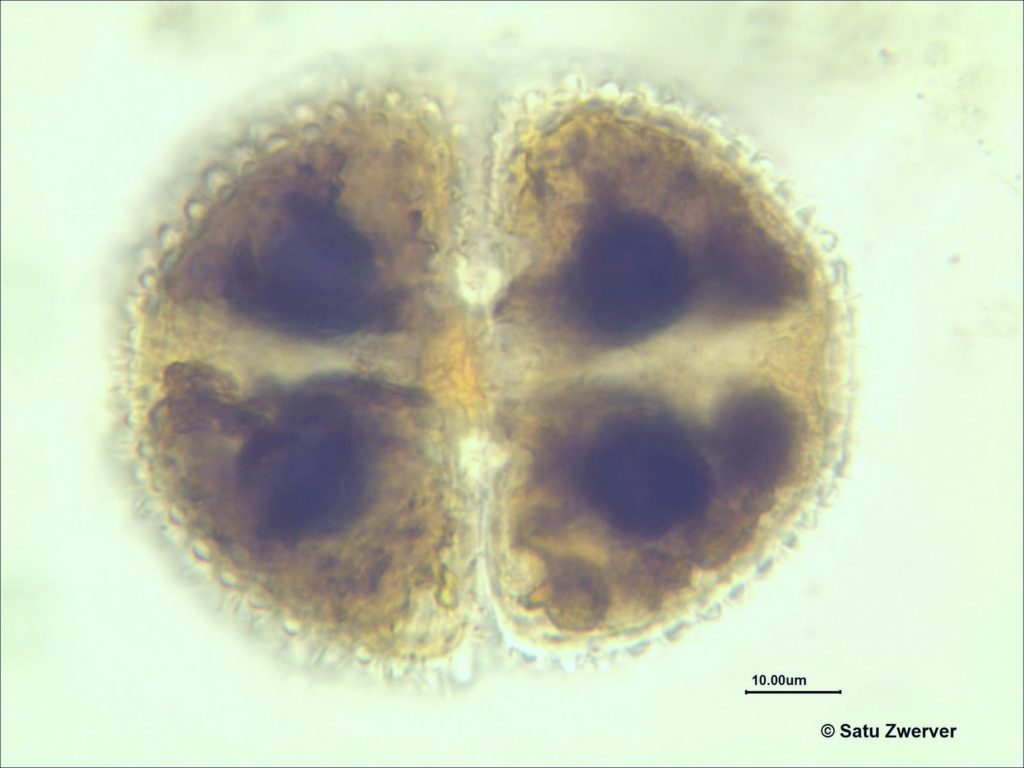 It was cathed in a lake Kurtinjärvi in Kuusamo, in the north of Finland. West & West (1912) already mention, that it has been seen in Finland. A quite a common species, found all over. West & West describe 7 varieties of this species with "considerable amount of variability": paxillosporum, subtumidum, tumidum, gemmiferum, emarginatum, mediolaeve and depressum. They only mention var. gemmiferum as seen in Finland at that time. Skuja mentions the species in some northern lakes in Sweden in 1948, with 3 varieties: subtumidum, tumidum and depressum. In his Abisko-book from 1963 he mentions only the two first ones.
Lenzenweger lists 5 varieties and one forma, of which var. latum and f. minus he states as taxonomically questionable. He also mentions var. emarginatum. Coesel en Meesters mention 3 varieties above var. botrytis itself: paxillosporum, tumidum and mediolave. And finally, AlgaeBase counts totally 14 varieties, all of them taxonomically accepted names.
The Finnish Algae guide by Tikkanen (1986) does not mention any varieties, while the official Phyto-list includes also var. depressum.
To the species level Cosmarium botrytis Meneghini 1840 ex Ralfs 1848 is easy to identify: just look at the big size, the pyramidal outline, two pyrenoids in each cell half the "pearly" granules, as Ralfs (1848) puts it, which can be – according to him – "sometimes very evident, sometimes obscure".
Literature
Coesel, Peter F.M. & Meesters, Koos (J.) 2007. Desmids of the Lowlands. Mesotaeniaceae and Desmidiaceae of the European Lowlands. KNNV, Zeist.
Lenzenweger R. 1999. Desmidiaceenflora von Österreich. Teil 3. 1999 (Bibliotheca Phycologica 104) J. Cramer, Stuttgart.
Ralfs, J. (1848). The British Desmidieae. pp. [i]-xxii, [i], [1]-226, pls I-XXXV. London: Reeve, Benham & Reeve Skuja H. (1948) Grundzüge der Algenflora und Algenvegetation der Fjeldgegenden um Abisko in Schwedisch-Lappland. Nova Acta Regiae. Soc. Sci. Upsal., Ser 4 18 (3).
Skuja H. (1964) Taxonomie de Phytoplanktons einiger Seen in Uppland, Schweden. Symb. Bot. Upsal. 9 (3).
Tikkanen, Toini 1986. Kasviplanktonopas. Suomen Luonnonsuojeluliiton tuki Oy. Helsinki.
W. & G.S. West 1912 A Monograph of the British Desmidiaceae, Vol. 4., Ray Society, London.